It's difficult, if not impossible, to discharge student loans in bankruptcy because there is a actual bankruptcy provision that says student loans aren't dischargeable. However, you can discharge your student loan by proving hardship under the Brunner test which is used by the majority of the states.
What is the Brunner Test?
The Brunner test Brunner v. New York State Higher Educ. Servs. Corp., 831 F. 2d 395 (2d Cir. 1987)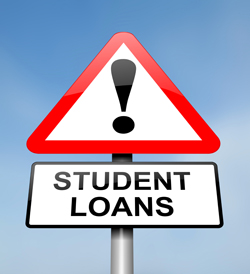 requires that you show, through an adversary bankruptcy proceeding, that:
(1) You can't maintain, based on current income expenses, a "minimal" standard of living for you and your dependents if you are forced to repay the student loans;
(2) Additional circumstances exist indicating that this state of affairs is likely to persist for a significant portion of your repayment period of your student loans; and
(3) You've made a good faith effort to repay the loans.
What's an Adversary Proceeding?
You have to file a Petition in Bankruptcy Court called an Adversary Proceeding to get a determination as to whether you can get all or part of your student loan discharged because of hardship. A review of cases nationwide show that the most leading reason for an undue hardship to be granted is as a result of a disability of the borrower or the disability of a family member that makes the borrower stop working and care for that disabled family member.
You'll have to hire an attorney to file and represent you in the Adversary proceeding. It can be costly to hire a lawyer. These experts will testify about your medical condition, the likelihood that it will continue, and, in some cases, even an economist to testify about how this state of affairs would make it unable for you to maintain a minimal standard of living.
Are There Other Options?
Yes! Other options can include placing your Federal student loans in an Income-Based Repayment plan or filing for a total and permanent discharge of your Federal student loans because of a disability.
Not every circumstance is right for these solutions! There are times in which you have no choice but to file an Adversary Proceeding in Bankruptcy.
If you're not sure what your options are, it's time to consult a Bankruptcy and Student Loan attorney Nancy Cavey. You can contact her today at 727-828-9955.